Comfort Food With A Cultural Kick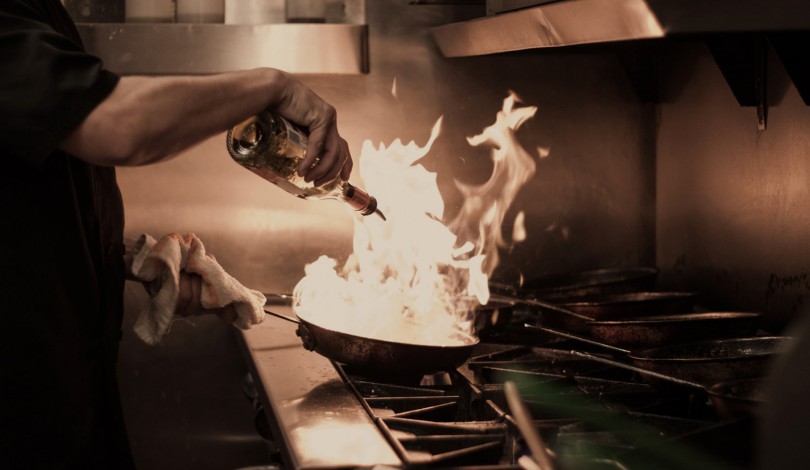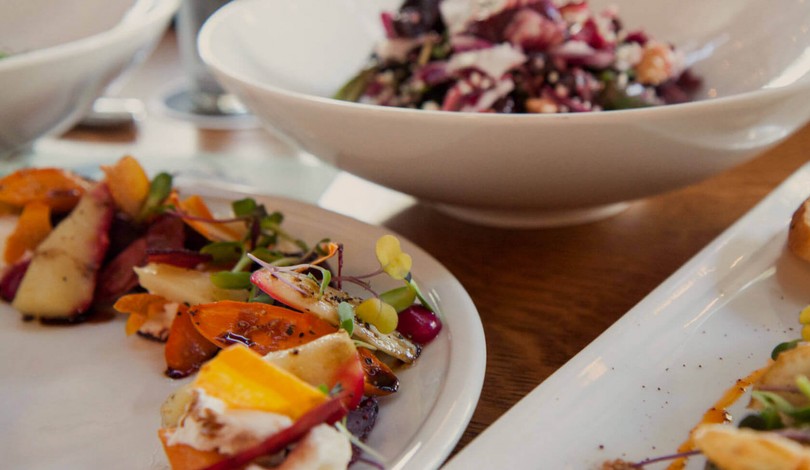 Open for lunch and dinner, plus a weekend brunch that draws a lively local crowd for dishes like crab cake benedict and chicken & biscuits, Oliver Royale is the handiwork of Executive Chef Jonathan Gatlin, who taps local purveyors like Mossy Creek Farms and Ridge Top Gardens to craft his seasonal New American menus.
Highlights include seared scallops,  oliver burger, wagyu sirloin and seared snapper (just to name a few). Top it off with house-made desserts like our house-made farmers cobbler, macarons & truffles and a chocolate and coconut layer cake. If cocktailing is on your mind, Oliver Royale offers an extensive (and quite imaginative) drinks menu featuring infused whiskeys, barrel-aged bourbons and other spirited fare.
Get the inside scoop on our restaurant's best-loved recipes, favorite specials, and local happenings. Visit our Blog.
5 Market Square, Knoxville, TN 37902 | 865-622-6434 | Royale@TheOliverHotel.com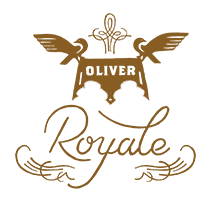 Kitchen Hours
Mon - Fri: 11am - 10pm | Saturday & Sunday: 10am - 10pm
Weekend Brunch Menu Saturday & Sunday 10am - 4pm
*Bar open later nightly; but really we'll stay open as late as you need us to.
Lunch Menu Dinner Menu Kid's Menu Dessert Menu Brunch Menu Drink Menu Coffee Menu Make reservations Visit Website
Menu
Bowls & Plates
Mussels & Clams
$14
oven roasted tomatoes, fennel, baby spinach, tasso
Fettuccine Primavera
$12
roasted winter squash, artichoke, peppadew
Royale Ramen
$13
confit pork, egg, miso, scallion, bok choy, lemongrass
Corn Flake Crusted Chicken
$13
garlic & herb whipped potatoes, grilled broccolini, gravy
Handhelds
Served with boardwalk fries, potato salad or baby lettuces
Veggie Royale
$9
oven roasted vegetables, spinach, provolone, mozzarella
Cuban
$12
ham, roast pork loin, swiss, whole grain mustard, house pickles
Turkey & Avocado
$12
bacon, lettuce, tomato, alfalfa sprouts, cheddar
Local Burger
$12
sweetwater valley cheddar, lettuce, tomato, onion, housemade pickle, bacon
Chicken Salad
$10
grilled chicken, grapes, walnuts, romaine
Soup & Half Sandwich
$11
choose the royale, cuban, chicken salad or turkey & avocado (does not come with a side)
Sides
$4
potato salad, boardwalk fries, winter vegetable, whipped potatoes, baby lettuces salad, fresh fruit
* Please ask your server about our express lunch options
Kids food menus are available
When consuming raw or under-cooked foods, the risk of food borne illnesses may increase.
Soups & Salads
Daily Soup Offering
$5
ask server for description
Baby Lettuces
$8
winter citrus segments, grapes, honeycrisp apple candied nuts, local wildflower honey, charred orange vinaigrette
Beet Salad
$9
radicchio, almonds, bleu cheese, raisin, dijon vinaigrette
Chopped
$10
bacon, bleu cheese, tomato, onion, avocado
Frisee & Mushroom
$10
crispy farro, dark soy vinaigrette, radish, daikon
Soup & Salad Combination
$10
daily soup & side salad of your choice
Hours
Served Saturdays and Sundays
10am - 4pm
Brunch
Banana Nut French Toast
$11
brandy maple syrup, chantilly cream, banana preserves
Crab Cake Benedict
$13
maryland style crab cakes, soft poached local farm eggs, hollandaise, toasted english muffins
Chorizo & Eggs
$12
house made fennel chorizo, soft poached eggs, salsa verde, avocado, hollandaise
Chicken & Biscuits
$14
cornflake crusted chicken, house made buttermilk biscuits, sausage gravy
Oliver Omelet
$10
mossy creek mushrooms, peppers, onions, goat cheese
Handhelds
Served with boardwalk fries or baby lettuces salad
Cuban
$12
ham, roast pork loin, swiss, whole grain mustard, house pickles
Turkey & Avocado
$12
bacon, lettuce, tomato, alfalfa sprouts, cheddar
Brunch Royale
$9
scrambled eggs, smoked cheddar, avocado, pickled jalapeno
Local Burger
$12
sweetwater valley cheddar, lettuce, tomato, onion, housemade pickle, bacon
Hangover Helper
$11
local farm egg, smoked cheddar, spicy fried or grilled chicken breast, house pickles, biscuit, hot sauce
Build Your Own
Choose 3
$11
farm eggs, toast n' jam, 1/2 waffle, biscuit n' gravy, hash casserole, fresh cut fruit, applewood smoked bacon, house made sausage, stone ground grits, baby lettuces
For the Table
Muffins & Scones
$7
freshly baked pastries, whipped butter, house made jam
Sticky Buns
$7
anglaise, whipped cream, wildflower honey
Biscuits & Jam
$7
house made buttermilk biscuits, local honey, butter, fresh jam
Sides
Sides
$4
potato salad, fresh vegetable, baby greens salad, potato hash, fresh fruit, farm eggs, applewood smoked bacon, house made sausage
Entrees
Chicken & Grits
$22
grits, fingerling potatoes, celery root, carrot coins, brussel sprouts, pan jus
Oliver Burger
$15
welsh cheddar artisan cheese, crispy serrano ham, tomato-apple chutney
Pan Roasted Arctic Char
$24
citrus & dill couscous, cauliflower florets, roasted radishes, confit baby carrots
Duck Duo
$26
seared duck breast and confit leg, butternut puree, compote, ridgetop swiss chard
Lamb Shank
$31
fingerling potatoes, baby carrots, roasted cauliflower, swiss chard, vadouvan
Braised Short Rib
$25
miso marinated boneless short rib, congee puree, smoked mossy creek mushrooms, baby kale, crispy farro
Seared Trout
$23
house made gnocchi, tasso ham, winter vegetables, clam "chowder", smoked roe, brussel sprouts
Petite Beef Tenderloin
$31
za'atar, smashed cauliflower, maitake, spinach, red onion marmalade
Bone in Ribeye
$46
truffle whipped potatoes, local mushrooms, cippolini, broccolini
Pastas
Fettuccine Primavera
$16
roasted winter squash, artichoke, peppadew
Spaghetti Bolognese
$18
san marzano tomatoes, braised beef, fennel & smoked chile sausage, sofrito, house made ricotta
Carbonara
$23
duck confit, peas, mossy creek mushrooms, house made pasta, farm egg
Royale Ramen
$18
confit pork, egg, miso broth, scallion, bok choy, lemongrass
Salads
Beet Salad
$12
radicchio, almonds, bleu cheese, raisin, dijon vinaigrette
Frisee & Mushroom
$13
maitake, crispy farro, dark soy vinaigrette, radish, daikon
Baby Lettuces
$10
winter citrus segments, grapes, honeycrisp apple, candied nuts, local wildflower honey, charred orange vinaigrette
Chopped
$13
bacon, bleu cheese, tomato, onion, avocado
To Begin
Meats & Cheeses
$24
assortment of house made sausages, cured meats, cheeses, paired accompaniments
Crab Cakes
$14
blue crab, gremolata, refogado, cucumber, wakame
Seared Scallops
$16
creamed leeks, house made tasso, confit fennel, quince
Shrimp & Grits
$12
gumbo, roasted piquillo, file, trinity relish
Roasted Winter Vegetables
$10
noble springs goat cheese, beet yogurt, grape must, carrot chips
Pork Belly
$13
sweet potatoes, cherry lacquer, parsnip & beet relish
Mussels & Clams
$14
oven roasted tomatoes, fennel, baby spinach, tasso
dessert
Fig Cake
$9
black mission figs, meringue, whiskey toffee sauce, brittle
Chocolate Chess Pie
$10
caramel, chocolate cremeux, walnuts
Apple Pie
$9
butter pecan gelato, italian meringue
Truffles & Macarons
$12
tasting of house made confections
Pumpkin Cheesecake
$9
cinnamon creme fraiche, brownie bites, candied nuts
Happy Hour
Seasonal Craft Draft
$5
ask bartender for selection
Royale Roulette
$7
ask bartender for daily cocktail
Premium Well Liquors
$5
titos, bacardi, centenario plata, buffalo trace, jackson ave gin
House Red & White Wines
$5
ask server for selections
Happy Hour Beer
$3
miller high life
Draft Beers
$2 off
all selections
Contemporary Classics
Flor De La Sangra
$10
elderflower, champagne, candied hibiscus flower
Manzarita
$11
blanco tequila, elderflower, apple cider, lemon
Jamaican Punch
$11
rum, all spice dram, turbinado, nutmeg
Coffee Cocktail
$10
brandy, ruby porto, 5-spice syrup, whole egg, nutmeg
Fennel Fizz
$11
fennel star anise gin, domaine de canton, berenjager, lemon, soda
Crown Jewels
Class Lass
$11
pecan vodka, amaro di angostura, apricot brandy, honey, walnut bitters
Royale Reanimator
$11
gin, lemon, beet, sugar, ginger beer
Bram Stoker
$11
bourbon barrel aged red wine, rye, lemon, maple
Twin Rova
$11
dark chocolate infused whiskey, amaro di angostura, lime, brown sugar cinnamon syrup, all spice dram
Manteled Fashion
$11
infused whiskey, complimenting sugar, bitters
Euphamia
$12
applejack, smoked all spice dram, lemon, barenjager, cinnamon
Mulled Wine
$10
served warm--- red wine, brandy, mulling spices, sorghum
Craft Draft
$10
rotating craft cocktail on draft, served cold and carbonated
Royale Roulette
$11
rotating craft cocktail designed by the Royale staff
Wine & Beer
Wine
Wine list available upon request
Beer
Rotating selection of tap and bottled craft beers
Save